Accounting
Financial Reporting & Management
Other Services
We offer other services through our associated Chartered Accountant firms:
About Us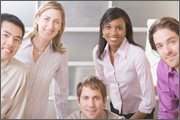 Accounting Pulse is founded by two Chartered Accountants each with over 20 years of public accounting experience serving enterpreneurs. Both founders are experienced in advising enterpreneurs on issues that keep them awake at nights as their businesses going through the various stages of life cycle, namely start-up, growing, expansion, established and declining. The two founders complement each other's expertise knowledge in tax and financial management. At Accounting Pulse, we offer comprehensive services in bookkeeping, accounting, payroll and financial management to help our clients to stay focus to face the different challenges and financial needs presented by the different life cycle stage of their businesses.
We are based in Toronto, Ontario of Canada. However, we are equipped with today's advanced technology in communications and secure online/hosted accounting and bookkeeping solutions which allow us to service our clients across Canada, without limitation of any geographical boundries. At Accounting Pulse, we have experience in servicing clients in a wide spectrum of industries, ranging from construction, real estate investments and management services, restaurant, wholesale and retail of consumer products, manufacturing, advertising, trade printing, spa, beauty and hair salon, dental and legal services, non-profit organization, condominum corporations ... just to name a few.
Our Mission
We strives to help our clients grow their business
by providing timely and efficient bookkeeping, accounting, payroll and financial management services

for enhancing the management accounting information system

for growing the REVENUE of the business

for shrinking the COSTS of doing business
At Accounting Pulse, we believe that too much time is spent by owners and managers on the details of bookkeeping. That is why we have created the simplest and most effective way for you to outsource bookkeeping and accounting. By taking fifteen minutes or less a day to send us your source documents, you will be able to see where your business earning income and spending money, understand how your various business activities are performing, and will have realistic budgets to measure your performance against. At Accounting Pulse, we always find ways for your business to save money and improve performance, all by keeping a timely and accurate accounting books for proper analysis of your current finaicial situation.
Accounting Pulse Ltd.
175 West Beaver Creek
Unit 17, Richmond Hill
Ontario L4B 3M1
Tel: 416-986-7700
Service Packages for Bookkeeping